πωλείται οικόπεδο
κάτω απροβάτο παναγίτσα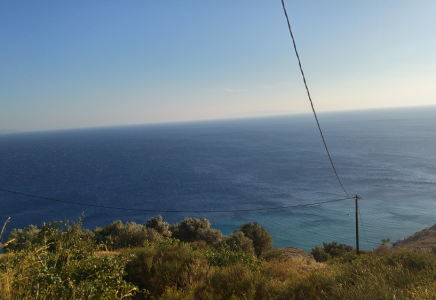 πωλείται οικόπεδο κάτω απροβάτο
πωλείται οικόπεδο κάτω απροβάτο άρτιο και οικοδομήσιμο 892 τ.μ., εντός οικισμού, 300 μέτρα απόσταση απο την θάλασσα. Κάλυψη έως 60% σύμφωνα με τους όρους δόμησης. Πωλείται στο Κάτω Απροβάτο, Άνδρος.
Νοτιο-Δυτικός προσανατολισμός για εκτεταμένη απόλαυση του ήλιου το καλοκαίρι αλλά και τις άλλες εποχές.
Απεριόριστη, πανέμορφη και ανεμπόδιστη θέα θάλασσα.

# πωλείται οικόπεδο Κάτω Απροβάτο Ανδρος – Απεριόριστη θέα θάλασσα
---
Land for sale in Aprovato Andros by the seaside.
Exquisite view of the Aegean from this build-able parcel of land in Kato Aprovato, Andros, 300 meters from the sea.
Build your dream vacation home and enjoy the most majestic sunsets you can only dream of.
The parcel lies within the municipality of Kato Aprovato in the island of Andros, Cyclades. It has a South-Western orientation so you get to enjoy the full beauty of the sun's movement across the summer sky. The view of the Aegean Archipelago is unobstructed and breathtaking to say the least.
This lot is 892 sq. m. and according to current laws it builds up to 60% of the area.
Please contact us for more information or to request a viewing, or use the form to the right.
---
ЗЕМЕЛЬНЫЙ УЧАСТОК ПОД ЗАСТРОЙКУ НА КИКЛАДАХ
Прекрасный земельный участок площадью 892 кв.м почти рядом ( 250-300м ) с пляжем, именуемым " Зеленый песок ". В самом престижном р-не Андроса, с фантастическим видом на море, по очень выгодной цене только – только выставлен на продажу. Так как участок небольшой – стоимость ухода минимальная, паралельно даёт возможность построить новое здание с большой площадью ( 60% от площади самого участка ).
Время инвестиций в недвижимость в Греции в самом разгаре!
κάτω απροβάτο παναγίτσα
πωλείται οικόπεδο
Agent for this listing
Zoya Mul
Agent / Агент
Office: +30-22820-29292
Mobile: +30-6971721760
Fax: +30-22820-29292
Other listings