Kato Aprovatou, Andros, Greece
Aprovato Villa for Rent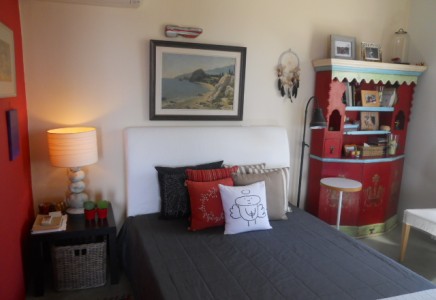 Price upon Request
Size: 70 m2
Bedrooms: 2
Bathrooms: 1
Deck and Patio
aprovato villa:
A contemporary aprovato villa with all the modern amenities and breathtaking views of the Aegean Sea, is now available for rent during the summer season in Andros.
This is a one-bedroom, bath, living-room with fireplace and a kitchen/dining area. The living-room has a raised level where there is a separate, cozy sitting area with a double bed where guests or children can sleep.
The beautiful veranda will open your vistas of the magnificent sunsets of the Aegean!
The villa is 7 km from the port of Gavrio, 2 km from the town of Batsi and about 800 meters from the nearest beaches.
Contact me today for availability! Zoya Mul, agent: +30-6971721760 or +30-22820-29292
---
Ενοικιάζεται υπέροχη βίλα στο Κάτω Απροβάτο, 70 τετραγωνικά μετρα, με καταπληκτική θέα στη θάλασσα για την θερινή σεζόν. Μια ξεχωριστή κρεβατοκάμαρα, μπάνιο, σαλόνι με τζάκι και κουζίνα-τραπεζαρία.
Στο επάνω επίπεδο του σαλονιού υπάρχει ανεξάρτητος, όμορφα φτιαγμένος χώρος χαλάρωσης με διπλό κρεβάτι. Φωτεινό σχέδιο με ρομαντισμό δίνουν μια ξεχωριστή νότα για πλήρη και αξέχαστη διαμονή.
Η βίλα είναι πλήρως εξοπλισμένη με ηλεκτρικές συσκευές και έχει πανέμορφη βεράντα προς στη θάλασσα. Βρίσκεται σε απόσταση 7 χλμ. απο το λιμάνι (Γαύριο), 2 χλμ απο το Μπατσί και 500-800 μέτρα απο κοντινές παραλίες.
# aprovato villa for rent

Aprovato Villa for Rent
Kato Aprovatou, Andros, Greece
Agent for this listing
Zoya Mul
Agent / Агент
Office: +30-22820-29292
Mobile: +30-6971721760
Fax: +30-22820-29292
Other listings