townhouse for rent
beachfront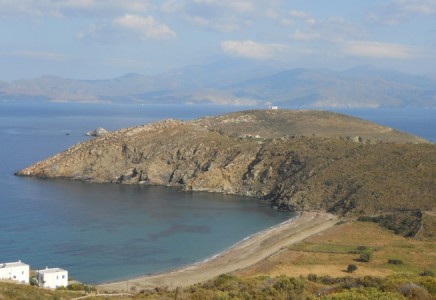 Price upon Request
Bedrooms: 2
Bathrooms: 2
Date Available: May 2015
Total Rooms: 6
Floors: 1
beachfront for rent:
A two-bedroom, two-bath townhouse beachfront for rent in western Andros.
This townhouse is a stone's throw from a one of a kind beach that only Andros has in its arsenal.
The spacious living quarters include a living-room with fireplace, kitchen and dining room and a wide large yard to play or just lounge and enjoy the magnificent view of the Aegean Sea.
This townhouse is the bottom one in the building pictured above, with its sibling sitting on top, also available to rent separately or together. (Information on the top townhouse here). The two townhouses are connected with an external staircase.
This home is situated 15 minutes away from shops and the port of Gavrio in western Andros.
—————————————
Εξοχικό δίπλα στην παραλία ενοικιάζεται για διακοπές στην Δυτική Άνδρο.
Δύο κρεβατοκάμερες, δύο μπάνια, σαλόνι με τζάκι, κουζίνα και τραπεζαρία. Άνετος χώρος με αυλη για παιχνίδι, ηλιοθεραπεία ή απλά για απόλαυση της θέας του απέραντου γαλάζιου!
Το εξοχικό υατό είναι το ισόγειο του κτιρίου στην φωτογραφία, με το αδελφάκι του στον επάνω όροφο το οποίο είναι προς ενοικίαση, με τα δύο να συνδέονται με εξωτερική σκάλα. (Περισσότερες πληροφορίες για τον άνω όροφο, εδώ.)
Το σπίτι αυτό βρίσκεται σε απόσταση 15 λεπτών απο το λιμάνι του Γαυρίου και καταστήματα.
# beachfront for rent :

beachfront
townhouse for rent
Agent for this listing
Zoya Mul
Agent / Агент
Office: +30-22820-29292
Mobile: +30-6971721760
Fax: +30-22820-29292
Other listings