townhouse for rent
beachfront #2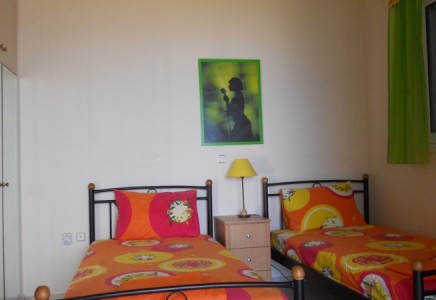 Price upon Request
Bedrooms: 1
Bathrooms: 1
Date Available: May 2015
Total Rooms: 4
Deck
Floors: 1
beachfront townhouse for rent #2:
This one bedroom, one bath beachfront townhouse for rent, is the sibling to this townhouse (click to view), on the top floor, commanding a great view of the beach below and the Aegean blue. There is a spacious living-room area and a dining-room with kitchen, along with a wide veranda looking out the sea.
You are a walking distance to the beach, you have a large yard to play, lay and soak in the sun, or simply enjoy the spectacular sea view.
You are situated in a quiet area, 15 minutes away from the port of Gavrio. This townhouse and its bigger brother can be rented together for larger groups or families. They are connected with an external staircase.
————————————————
Αυτό το εξοχικό διαθέτει ένα υπνοδωμάτιο και ένα μπάνιο, ευρύχωρο σαλόνι και κουζίνα-τραπεζαρία (ενιαίος χώρος). Βρίσκεται στον επάνω όροφο αυτού του σπιτιού (μπορούν να νοικιασθούν μαζί για μεγαλύτερες οικογένειες) και έχει μεγάλη βεράντα με θέα την παραλία και το Αιγαίο.
Το εξοχικό βρίσκεται σε ήσυχη περιοχή, μερικά μέτρα από την παραλία και περίπου 15 λεπτά απο το λιμάνι του Γαυρίου. Τηλεφωνείστε τώρα στο 6971721760 ή συμπληρώστε την φόρμα επαφής εδώ.
# beachfront townhouse for rent 2
beachfront #2
townhouse for rent
Agent for this listing
Zoya Mul
Agent / Агент
Office: +30-22820-29292
Mobile: +30-6971721760
Fax: +30-22820-29292
Other listings